With many health experts recommending fresh farm produce and organic products, the urban populace of Pakistan has started focusing upon eating and living healthy. In order to bridge the gap between consumer and producer, as well as raise awareness about natural produce, Inqalab the Organic Shop arranged the "Organic Bazaar 2.0" at Packages Mall,Lahore from 29th June to 1st July 2018.
An organic lifestyle may seem like a step forward or a westernized concept for Pakistan; however, we're merely going back to our roots. Organic food was common among our predecessors, who used natural means of farming for centuries. From chemical free fertilizers to natural pest control, our ancestors had mastered organic farming down to the T. So what changed?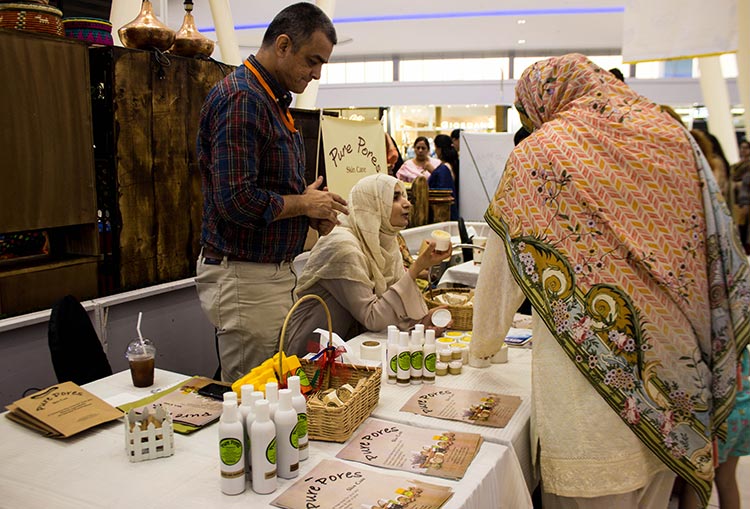 Visitors at the Pure Pores stall
The sudden population boom in the past century gave rise to Genetically Modified (GM) plants and animals, resulting in faster growth rate and larger sizes. For insect infestations which can easily damage plants and thus disrupt the demand-supply equilibrium, stronger pesticides were used. However, it is generally recognized that these often include harmful chemicals, which leave residual effects that pose many health problems. This is where modern organic farming comes to play. By using approved pesticides, compost instead of chemical fertilizers, and adaptive methods like crop rotation, organic farmers ensure good quality crops with low health risks. However, compared to organic farming, conventional farming methods are more commercially viable. On the other hand, organic farming produces lower yield per hectare. Nevertheless, one always has to pay the price for health.
With the aim of making organic and natural products more accessible in Pakistan, Inqalab focused on bringing together various vendors and start-ups in one place. Categories included organic farm produce, food and beverages, natural/herbal personal care, eco-friendly crafts and goods, and nature based service providers such as alternative medicine and nature therapy. By making the event free for visitors, and choosing a frequently visited location like Packages Mall, the company was able to attract hordes of visitors to the bazaar.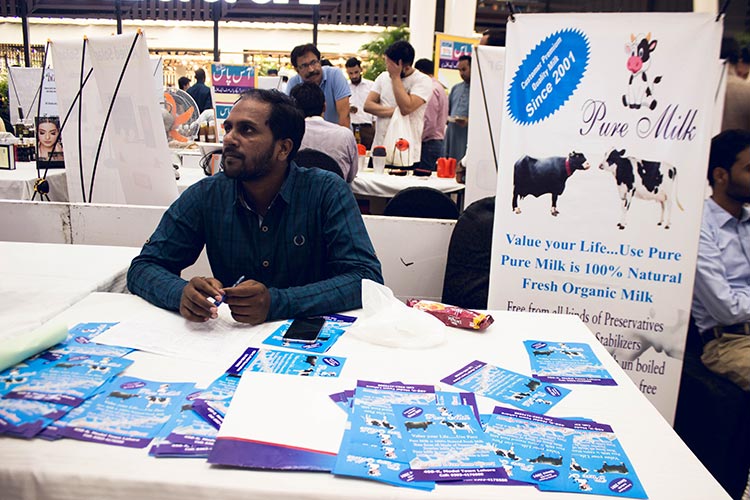 Pure Milk stall
Several start-ups stood out amongst the rest, including the stall arranged by the organic shop. Their small-scale business sells organic vegetables, dairy products, poultry and even cosmetics such as scrubs and face washes. In a conversation with the manager, we learnt that not only do they have the certifications confirming that they sell organic products, they are also authorized to provide these certifications to other start-ups. However, they have been facing losses because of issues such as high cost of vegetables – with tomatoes costing almost Rs.200/kilo – and chickens that take longer than usual to reach full growth. Despite the setbacks, they seem determined to maintain consistency.
"Nano's Fabulous" was another food stall, specializing in various types of chutneys. Instead of using chemicals to preserve food, they use pasteurization as a method of conservation, and to cut back on any losses, they make their product in smaller batches. A dairy stall by the name of "Pure Milk" was also present. They raise their cows on natural feed, and sell milk on a demand/supply basis, meaning that the milk sold is completely fresh and untreated. Apart from owning a store in Model Town, they also offer home delivery at an approximate rate of Rs. 120/kilo of milk.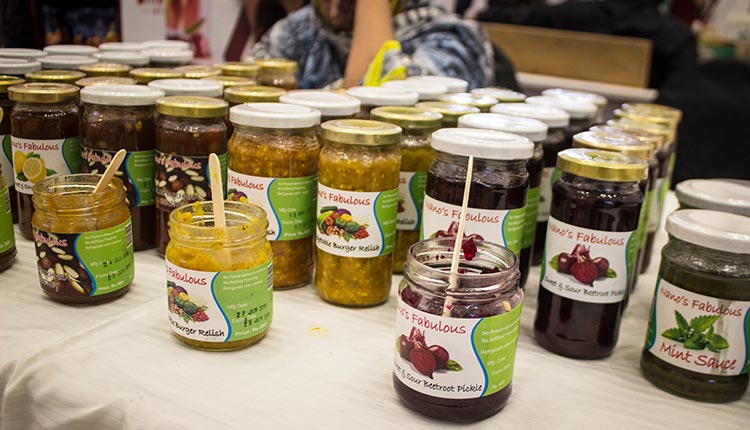 Nano's fabulous nature-friendly chutneys
Down the line was "Kishmish Organic Skin Care," an online store that sells scrubs, facemasks and moisturizers. According to them, they grow all the raw materials used in the products themselves, and don't add any chemicals for fragrance while packaging. Furthermore, they were mostly selling dry products, which have a longer shelf life. Another skin care company was, "Pure Pores," whose owner obtains raw materials such as cold-pressed coconut oil directly from local suppliers who extract oil manually. This makes the claim of organic products slightly questionable, but since the organic shop doesn't stock anyone without requisite certification, perhaps her claim is authentic. Besides, since the owner has sensitive skin herself, she said that she only sells products that work for her as well.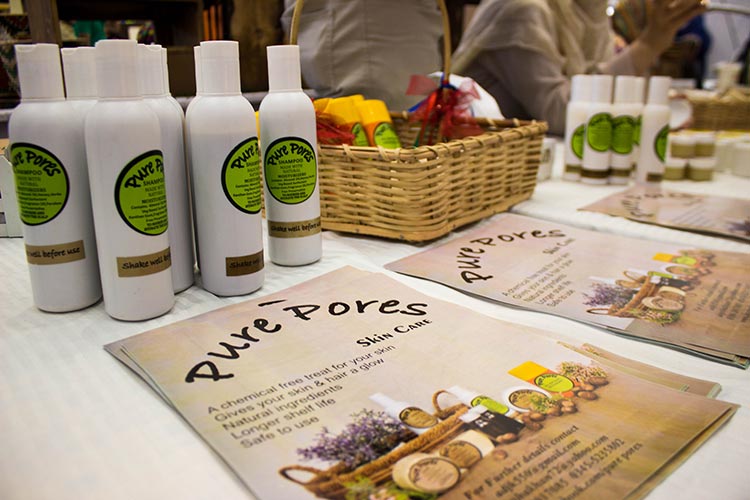 Pure Pores, natural skin-care products for sensitive skin
International companies were also present, in an attempt to market imported organic products, such as the Swedish skin care brand, Du'VI. Their company also stocks in many different stores across Pakistan. Furthermore, some producers from Hunza could also be seen marketing their dried fruits.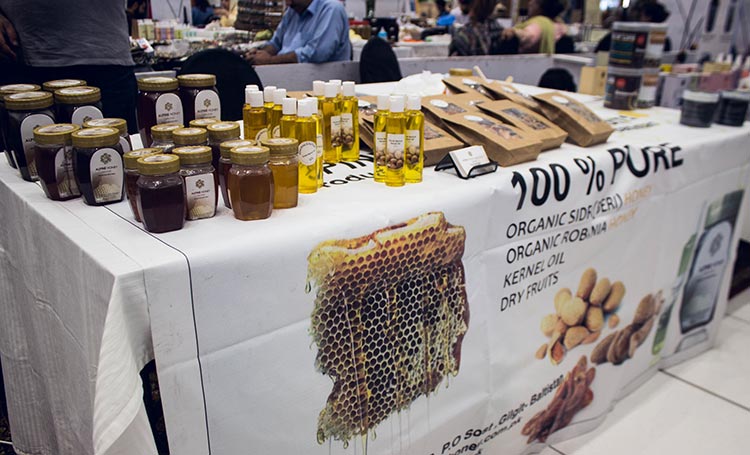 Alpine Honey brand
It was heartening to see how much effort start-ups are making to ensure that consumers buy the healthiest possible products. The bazaar not only caught the attention of their target market, they also managed to attract people who weren't even aware of the concept of organic food. Customers, such as Ms. Maleeha, thought that the bazaar was a great way to obtain information about organic products, and how we can adopt them in our own lives.
It is certainly appreciable that the "The Organic Shop" organized such an informative and enlightening event. A small step towards an organic nation could go a long way in the future.